Industrial Dust Collectors
Established in 1991, IndustriCorp, Inc. is committed to providing the best in industrial grade equipment and services to meet the unique demands of numerous industries. We have been pleased to partner with CAMCORP, combining our unique design and engineering approaches for industrial dust collection systems and equipment.
We offer a full line of Bag, Pleated Bag and Cartridge Collectors including:
Pulse-Jet Dust Collectors
Reverse Air Dust Collectors
Vertical Cartridge Collectors
Pleated Element Dust Collectors
Filter/Receiver Dust Collectors
Medium Pressure Dust Collectors
Bin Vent Dust Collectors
Cyclone Dust Collectors
And More in ranges from 100 CFM to 250,000 CFM.
Together we offer a full array of technical, engineering and aftermarket solutions for virtually every application. We have the expertise and experience in the latest filtration and pneumatic conveying technologies, and have engineered unique solutions for a wide range of industrial applications.
Standard Bag and Cage Designs as well as Pleated Bag Systems Available

Round and Rectangular Designs

Top Loading or Bottom Loading Bags

Walk In Plenum Designs Available

Available in Carbon Steel, Stainless Steel as well as Various Alloys

High Pressure/Vacuum Construction Available

Explosion Protection Available for Combustible Dusts

ASME Construction Available.
Call 800-639-3828 to Discuss Your Application!
Low Pressure and Medium Pressure Cleaning Systems

Self Contained – Cleans Filters Without Plant Compressed Air

Well Applied to Systems With High Air Volumes and Heavy Dust Loading

Systems Up To 250,000 CFM
Call 800-639-3828 to Discuss Your Application!
Vertical Cartridge Collectors
Efficiently Makes Use of All the Filter Area.

Stainless Steel Filter Mounting & Slide Rails

Stainless Steel Door Latches and Hardware is Standard

Welded Construction

Selection of Filter Medias and Pleat Design for Numerous Applications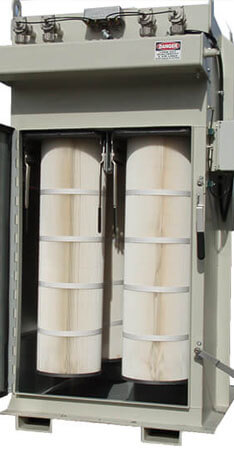 Call 800-639-3828 to Discuss Your Application!
Bag and Cage, Suspended Cartridge or Pleated Bag Designs Available.

Pulse Filter Cleaning Systems

Used to Control Dust on Silos, Mechanical Conveyors, Scale Hoppers, Mixers and More…
Call 800-639-3828 to Discuss Your Application!